Expert 24x7 Service Desk Support
Vancord's Service Desk is the foundation of our Managed Services solution. Our Service Desk team provides ongoing proactive support as well as rapid and immediate response to all our customers' IT related needs.
Vancord's ITIL-aligned Service Desk leverages a complete and integrated IT management toolset in concert with a vetted, standard, continuous improvement approach and best-in-class engineering to ensure maximum up-time for our customers. Our Service Desk is available 24×7 to keep your business running smoothly.
We modify our services to fit each organization's unique needs. Either completely outsource your IT or ask us to co-manage. We can manage all your infrastructure systems or just work to take the workload off in-house staff in order to prioritize critical business needs.
Avoid Network Downtimes That Come with Expensive Disruptions
Having a network outage can affect all areas of an organization. These outages cause operational and reputational damage, may result in financial or customer loss, and negatively impact all areas of a business. Avoid this by outsourcing your IT and working with Vancord today.
Our support is tiered to deliver the appropriate solution to customers. While we do offer standard service level agreements, our standard response times remain a huge point of pride for our team and well ahead of our competitors.
We have an over 90% customer satisfaction rating on Crewhu: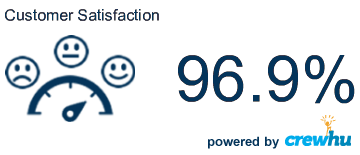 Featured Threat Response Services
Stay ahead of attackers and cybersecurity threats. Our team of engineers and security experts are here to help you implement security from the ground up within your infrastructure and are prepared to respond in the event of a cybersecurity attack.